カウンタックという標本を元に、一番興奮する状態を体験できる設備を作ろうと考えています。
テーマは死にに行く道具とでも言いましょうか、カウンタックという誰もが憧れる形をしたものに乗って散り行くという死に方を提案してみました。
それに備わるスタイル、設備を搭載させ死という極限の恐怖を感じながらあえて乗ってみたいという欲望を駆り立てるものを作ろうと考えています。

http://www.liquidroom.net/interview/431/ (interview detail)
という言葉通り、この作品は世界で最も勇猛で美しい棺桶というニュアンスがあります。
ステアリング類を一切排除し、視界も塞ぎ、エンジンは制御不能のパルスジェットエンジン。
このセッティングで乗り込んだものなら、先にあるのは次元を超えた世界であることは間違いありません。
そこが、死なのか、あるいは偶然に辿り着く未来や過去なのか?
試せば終わる究極の体験作品です。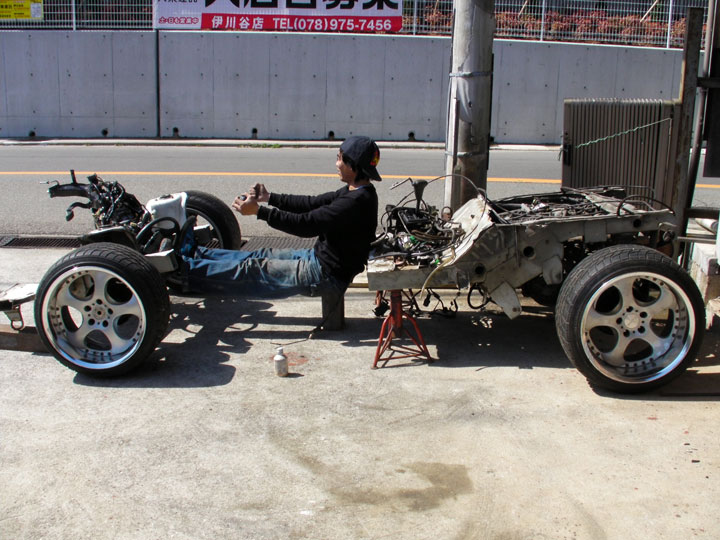 Based on the sample `countach' , I'm thinking that I make equipment that the people will be

able to get excited most. The theme of this work shall be called a tool ` to go to die' .

I proposed how of scattering taking the vehicle for which everyone yearned and going to die.

I try to produce the one which drives desire that people still want to get on feeling fear of the limit of death.

http://www.liquidroom.net/interview/431/ (interview detail)
As I said on this interview,this work has a meaning :`the bravest, beautiful coffin in the world'
All steering wheels were excluded, view is closed,and the engine is uncontrollable pulse-jet engine.
If having boarded in this setting, it is certain to reach the world where the dimension is exceeded at last.
Is it a death,future or the past that you may reach by chance?
This is ultimate experience work.
If you try, it's the end.